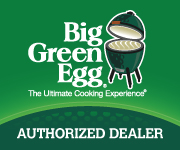 There are NO authorized internet retailers for Big Green Egg products. Purchasing and shipping any Big Green Egg product from an internet source will void the lifetime warranty.
The Big Green Egg is the Ultimate Cooking Experience. Smoke, grill and oven all egged into one, and is more versatile than any other indoor or outdoor cooker. You can cook low and slow to hot and fast, easily maintaining the temperature you desire. The Big Green Egg comes in five sizes from Mini to Extra Large.

Your Big Green Egg comes with a lifetime warranty and free assembly by Homecrafters.

XXLarge
Cooking Diameter: 29 in
Cooking Area: 672 sq. in.
Weight: 424 lbs

XLarge
Cooking Diameter: 24 in
Cooking Area: 452 sq. in.
Weight: 219 lbs

Large
Cooking Diameter: 18.25 in
Cooking Area: 262 sq. in.
Weight: 162 lbs

Medium
Cooking Diameter: 15 in
Cooking Area: 177 sq. in.
Weight: 113 lbs

Small
Cooking Diameter: 13 in
Cooking Area: 133 sq. in.
Weight: 80 lbs

MiniMax
Cooking Diameter: 13 in
Cooking Area: 133 sq. in.
Weight: 80 lbs

Mini
Cooking Diameter: 10 in
Cooking Area: 79 sq. in.
Weight: 36 lbs